Close
Thinking ahead
Team building at institute level
GCE team
IMAP team
iMMC logo
MEED team
MEMA team
TFL team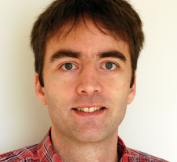 Laurent Delannay
Professor
Contact
Recent publications

Within the field of solid mechanics, my research aims at an improved understanding of the influence of microstructure and damage on the deformability, the strength and the toughness of both natural and high-performance engineering materials. One important challenge is to address anisotropic, non-linear and possibly unstable responses resulting from microstructural changes in plastically deformed heterogeneous materials. To assist the interpretation of experimental observations, performed at various length scales, I develop original, physically-sound, constitutive models and apply them in computational predictions of the microscopic and macroscopic mechanical response. The fields of application span many engineering disciplines, among which mechanical manufacturing, biomechanics and structural integrity.


IMMC main research direction(s):
Computational science
Solid mechanics

Keywords:
finite elements
fracture mechanics
metallic alloys
micromechanics
plasticity

Research group(s): MEMA

---
PhD and Post-doc researchers under my supervision:
---
Advanced modeling of the deformation of a finger with the aim to better understand tactile perception
Guillaume Duprez

Where does the sense of touching come from? How does the brain determine the force which should be exerted in order to avoid that an object slips between our fingers? What is the role of the finger print? Based on an original modeling of the biomechanics of a finger, this project aims to address some important questions raised in the field of neurosciences and of tactile perception. In particular, we will study the transitions between static contact and sliding when one of our fingers hinges on a rigid surface. The challenge is to predict strains at the interface between epiderm and derm, which is where we find the mechanosensors that are at the origin of neuronal stimuli used by the brain in order to command muscular activity. The finite element modeling, which will account for the physiology of the finger, and actually also of the finger print, should also help establishing the link between the hyperelastic rigidity of biological tissues and the evolution of the coefficient of friction. Results of finite element simulations will be compared to experimental measures obtained using a device which has been elaborated at UCLouvain over the last decade. Our goal is to ensure that the mechanistic model to be developed here contributes to a greatly enriched evaluation of the neuronal signals recorded during the experiments.
Interplay of plasticity and Hydrogen diffusion in roll-bonded Aluminium multi-laminates
Guillaume Hanon

Just like many other metals, aluminium alloys are susceptible to hydrogen embrittlement. This may result in early failure, which raises maintenance costs and may even forbid the use of these alloys in some applications (corrosive environment, H storage, ...) where their excellent strength- to-density ratio would otherwise be a significant asset.
My research is an original investigation of the influence of diffusible H on the micromechanics and the occurrence of damage inside lightly alloyed aluminium polycrystals. It has two main objectives. On the one hand, we will investigate how diffusible H influences dislocation-mediated plasticity in aluminium alloys. On the other hand, we will analyse the diffusion and the trapping of H inside samples with composite laminate structures. The two goals are closely interconnected since the diffusion routes and the H traps are expected to be influenced by the dislocation substructure and also by the build-up of internal stresses within the multiphase polycrystal.

---
Recent publications
See complete list of publications
Journal Articles

1. Lin, Fengxiang; Delannay, Laurent. Non-uniform grain boundary migration during static recrystallization: A cellular automaton study. In: Metallurgical and Materials Transactions A - Physical Metallurgy and Materials Science, (2022). (Accepté/Sous presse). http://hdl.handle.net/2078.1/256582

2. Zinovev, Aleksandr; Terentyev, Dmitry; Delannay, Laurent. Plastic deformation of ITER specification tungsten: Temperature and strain rate dependent constitutive law deduced by inverse finite element analysis. In: International Journal of Refractory Metals and Hard Materials, Vol. 96, p. 105481 (2021). doi:10.1016/j.ijrmhm.2021.105481. http://hdl.handle.net/2078.1/242089

3. Zinovev, Aleksandr; Terentyev, Dmitry; Delannay, Laurent. Modelling strain hardening during cyclic thermal shock tests of tungsten. In: Journal of Nuclear Materials, Vol. 546, p. 152776 (2021). doi:10.1016/j.jnucmat.2020.152776. http://hdl.handle.net/2078.1/241670

4. Muszka, Krzysztof; Wang, Jiangting; Madej, Lukasz; Tkocz, Marek; Delannay, Laurent; Szyndler, Joanna; Grosman, Franciszek. Through scale material flow investigation in novel incremental bulk forming process. In: Journal of Materials Processing Technology, Vol. 287, p. 116487 (2021). doi:10.1016/j.jmatprotec.2019.116487. http://hdl.handle.net/2078.1/236676

5. Liu, Pei; Lin, Fengxiang; Shin, Kwang Seon; Liu, Hong; Moelans, Nele; Delannay, Laurent; Peng, Liming; Nie, Jian-Feng; Yue, Yuan. Variant selection of primary–secondary extension twin pairs in magnesium: An analytical calculation study. In: Acta Materialia, Vol. 219, p. 117221 (2021). doi:10.1016/j.actamat.2021.117221. http://hdl.handle.net/2078.1/250810

6. Lin, Fengxiang; Shi, Qiwei; Delannay, Laurent. Microscopic heterogeneity of plastic strain and lattice rotation in partially recrystallized copper polycrystals. In: International Journal of Solids and Structures, Vol. 184, p. 167-177 (2020). doi:10.1016/j.ijsolstr.2019.01.024. http://hdl.handle.net/2078.1/213885

7. Ding, Lipeng; Idrissi, Hosni; Schryvers, Dominique; Mithieux, Jean-Denis; Parrens, Coralie; Jacques, Pascal; Pardoen, Thomas; Delannay, Laurent; Miotti Bettanini, Alvise. Influence of M23C6 dissolution on the kinetics of ferrite to austenite transformation in Fe-11Cr-0.06C stainless steel. In: Materials & Design, Vol. 162, p. 362 - 374 (2019). doi:10.1016/j.matdes.2018.12.005; 10.1016/j.matdes.2018.12.005. http://hdl.handle.net/2078.1/208252

8. Coulombier, Michaël; Lemoine, Guerric; Pardoen, Thomas; Delannay, Laurent. Modelling creep induced by internal stresses in freestanding submicron Cu film. In: IOP Conference Series: Materials Science and Engineering, Vol. 580, p. 012003 (2019). doi:10.1088/1757-899x/580/1/012003. http://hdl.handle.net/2078.1/224243

9. Guilleume, Badinier; Jacques, Pascal; Pardoen, Thomas; Hannard, Florent; Mithieux, Jean Denis; Delannay, Laurent; Miotti Bettanini, Alvise. Residual ferrite in martensitic stainless steels: the effect of mechanical strength contrast on ductility. In: Materials Science and Engineering A: Structural Materials: Properties, Microstructures and Processing, Vol. 731, p. 495 - 505 (2018). doi:10.1016/j.msea.2018.06.012. http://hdl.handle.net/2078.1/200086

10. Lin, Fengxiang; Jacques, Pascal; Delannay, Laurent; Marteleur, Matthieu. Transmission of {332}<113> twins across grain boundaries in a metastable beta-titanium alloy. In: International Journal of Plasticity, Vol. 105, p. 195-210 (2018). doi:10.1016/j.ijplas.2018.02.012. http://hdl.handle.net/2078.1/194357



Conference Papers

1. Croonenborghs, Maïté; Pardoen, Thomas; Korsunsky, AM; Laville, Colin; Delannay, Laurent; Ismail, Karim; Everaerts, J. Influence du pliage sur la resistance en fatigue des tiges de croissance. 2020 xxx. http://hdl.handle.net/2078.1/226259

2. Lecarme, Liza; Brassart, Laurence; Perlade, Astrid; Simar, Aude; Maire, Eric; Mithieux, Jean-Denis; Pardoen, Thomas; Ismail, Karim; Hannard, Florent; Delannay, Laurent; Jacques, Pascal; Miotti Bettanini, Alvise. Microstructure heterogeneity dominated ductile fracture. 2019 xxx. http://hdl.handle.net/2078.1/226323

3. Jacques, Pascal; Parrens, Coralie; Mithieux, Jean-Denis; Pardoen, Thomas; Laville, Colin; Delannay, Laurent; Miotti Bettanini, Alvise. Ductile to brittle failure transition under bending deformation of martensitic stainless steels. 2018 xxx. http://hdl.handle.net/2078.1/214430

4. Mithieux, Jean-Denis; Jacques, Pascal; Pardoen, Thomas; Delannay, Laurent; Miotti Bettanini, Alvise; Badinier, Guillaume. Influence Of Microscopic Strain Heterogeneity On The Formability Of Martensitic Stainless Steel. In: Proceedings of ESAFORM, 2017 xxx. http://hdl.handle.net/2078.1/226630

5. Szyndler, Joanna; Muszka, Krzysztof; Delannay, Laurent; Madej, Lukasz. Numerical and experimental microscale analysis of the incremental forming process. In: AIP Conference Proceedings. Vol. 1896, p. 080006 (2017). 2017 xxx. doi:10.1063/1.5008086. http://hdl.handle.net/2078.1/188434

6. Idrissi, Hosni; Tummala, Hareesh; Pardoen, Thomas; Fivel, Marc; Hammad, Mohamed; Delannay, Laurent. 3D DD Investigations of the Role of Interfaces on Dislocation Plasticity. 2017 xxx. http://hdl.handle.net/2078.1/226543

7. Tacq, Jeroen; Delannay, Laurent; Barde, Didier; Seefeldt, Marc. Direct micro-to-macro modelling of the cold rolling of pearlitic steel. In: MATEC Web of Conferences. Vol. 80, no.2008, p. 5 (2016). E D P Sciences: (France) Les Ulis, 2016 xxx. doi:10.1051/matecconf/20168002008. http://hdl.handle.net/2078.1/177584

8. Fivel, Marc; Tummala, Hareesh; Lemoine, Guerric; Pardoen, Thomas; Delannay, Laurent. Collective influence of texture, grain shape, size and dislocation density on the plasticity of polycrystalline metallic thin films. 2016 xxx. http://hdl.handle.net/2078.1/226577

9. Pardoen, Thomas; Delannay, Laurent; Miotti Bettanini, Alvise; Jacques, Pascal. The Effect of Second Population NbC Carbides on The Shear Localisation in a Nb-Modified AISI 410 Stainless Steel. 2016 xxx. http://hdl.handle.net/2078.1/182516

10. Delannay, Laurent; Lemoine, Guerric; Colla, Marie-Stéphane; Pardoen, Thomas. Dislocation and back stress dominated viscoplasticity in freestanding sub-micron Pd films. 2016 xxx. http://hdl.handle.net/2078.1/177394



Book Chapters

1. Van Bael, Albert; Delannay, Laurent. Editorial: in Honor of Paul Van Houtte. In: International Journal of Plasticity , Elsevier, 2015. xxx xxx. doi:10.1016/j.ijplas.2014.09.002. http://hdl.handle.net/2078.1/155007